Stories from the Family of Parishes
Receive Stories, Reflections and Notices direct to your email
The youngest church in the parish of Rosscarbery has an art treasure at its centre
Carraigfada Church, dedicated to St. Peter, was opened on Sunday 21st November 1909, by Most Rev Denis Kelly, Bishop of Ross. The first Mass was celebrated by Rev Peter Hill PP VF. The first curate was Fr Jeremiah O'Driscoll.
Fr. Peter Hill was largely responsible for the building of the church. His nephew, of the same name, was responsible for the building of Timoleague Church in 1912. Soon after the dedication of Timoleague Church, Fr. Hill was transferred to Rosscarbery to replace his uncle who died that year.
In December 1921, he was transferred to Clonakilty and was appointed Vicar General (VG) of the Diocese of Ross. But he was still to leave his mark on Carraigfada Church in the wonderful three-light stained glass window in the sanctuary.
How the Parish got the name Barryroe
The history of the name Barryroe for the Parish is quite complicated. To summarise, 'Barry' has its roots in the lands under the patronage of Saint Barruch being given to a Norman (therefore French) military clan calling themselves the people of Barruch i.e. de Barri. The 'Roe' part refers to Lawrence Barry (c. 1400) who was named Red Barry possibly because he had a red complexion or even red hair? Ruadh is Irish for Red so Barra Ruadh or Barraí Rua anglicised became Barryroe.
The Parish includes townlands such as of Abbeymahon, Ardgehane, Ballycremond, Butlerstown, Carrigeen, Courtmacsherry (where Courtmacsherry Church is), Donaghmore, Dunworly, Grange More/Beg, Lehenagh, Lislevane, Shanaghobarravane, Ternanean (where Barryroe Parish Church is).
There are two Churches in the Parish: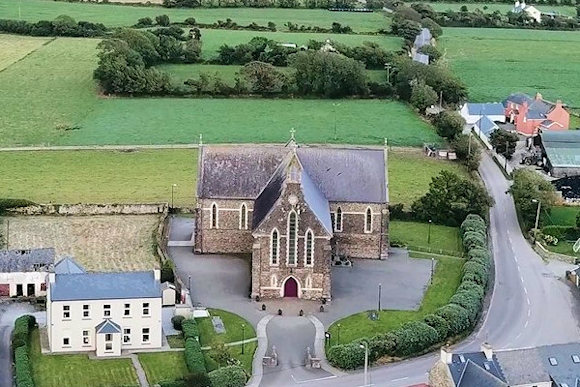 Church of Our Lady, Star of the Sea - Barryroe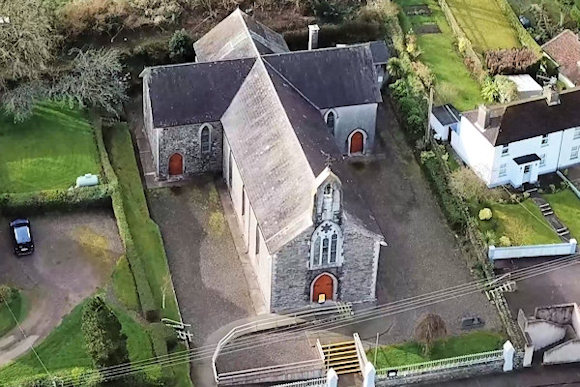 Sacred Heart Church - Courtmacsherry
Castleventry is an appropriate place to visit as the month of May begins
This ancient site with a commanding view over so much of West Cork has been inhabited for at least 4,000 years. It's a combination of a ringfort, a Christian chapel and a contemporary burial ground.
In pre-Christian times it was a ritual site for druids who could invoke the blessing of the gods on all the surrounding area. So it was a busy place during the bronze and iron age.
Near the entrance to the fort there's a well which is now Christianised and is still visited regularly. In the past, bronze objects and other historical pieces were discovered nearby which shows us that the Castleventry area was indeed a special place around 4,000 years ago.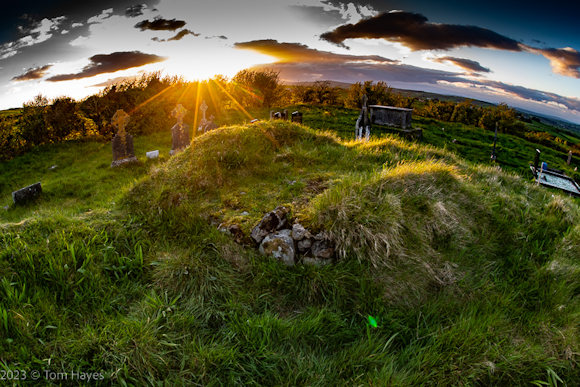 The ancient churchyard at Castleventry
Emergency Phone
Contact a Priest
086 876 0608
for urgent calls only