The youngest church in the parish of Rosscarbery has an art treasure at its centre
Carraigfada Church, dedicated to St. Peter, was opened on Sunday 21st November 1909, by Most Rev Denis Kelly, Bishop of Ross. The first Mass was celebrated by Rev Peter Hill PP VF. The first curate was Fr Jeremiah O'Driscoll.
Fr. Peter Hill was largely responsible for the building of the church. His nephew, of the same name, was responsible for the building of Timoleague Church in 1912. Soon after the dedication of Timoleague Church, Fr. Hill was transferred to Rosscarbery to replace his uncle who died that year.
In December 1921, he was transferred to Clonakilty and was appointed Vicar General (VG) of the Diocese of Ross. But he was still to leave his mark on Carraigfada Church in the wonderful three-light stained glass window in the sanctuary.
Mgr. Hill ordered the window from Watsons of Youghal in January 1927. The window depicts St. Brigid, St. Peter and St. Patrick,. The records in the Watson archive at the Crawford Gallery, Cork, show that the window cost £284.
James Watson was a Yorkshireman who moved to Ireland in the 1880s, buying out Cox, Buckley, and Sons glassworks in Youghal, Co Cork. Watson's family had been glassworkers for generations and he became well known in Ireland for the rich tones and fine detail of his stained glass windows which were commissioned by Catholic and Protestant churches alike.
Four generations of Watsons worked as stained glass artists in Youghal, employing more than sixty apprentices from the late 1880s until 1994, when the glassworks studio closed. Cecil Watson continued to work with glass until his death in 2012.
During the early 1900s, the rediscovery of the great artistic works in traditional Irish manuscripts such as the Book of Kells began to influence the style of church architecture and design. The best example of a whole-church design based on Irish heritage is the Honan Chapel at UCC.
Watsons also began to integrate Irish art into their stained glass windows and this window in Carraigfada is a wonderful example of their Celtic work.
It's not unreasonable to assume that Mgr. Peter Hill contributed to the cost of the centre light of the window which is dedicated to his uncle. The inscription reads: "In memory of Very Rev. Peter Hill P.P. V.F. Ross 1887–1912 who built this church. By Parish Exiles and Home Friends."
The right hand light (St. Patrick) is dedicated "In memory of William and Margaret Barrett, Glounbrack, by their children."
The lefthand light featuring St. Brigid was "Erected by Rev John Kearney, PP Ardfield, in memory of his parents and family formerly of Sunnyrock."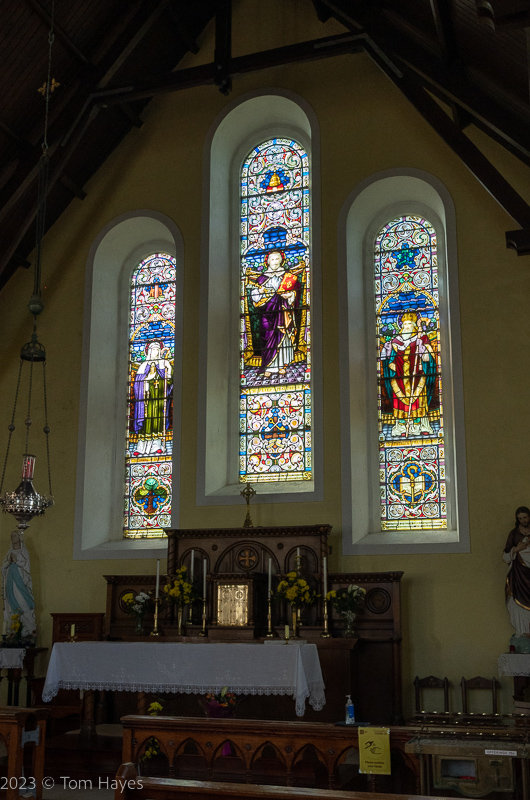 St. Peter's Church, Carraigfada, in Rosscarbery Parish